Building Resilient Supply Chains:
What Past Experiences Taught Us About Gaining Advantage in the Current Recession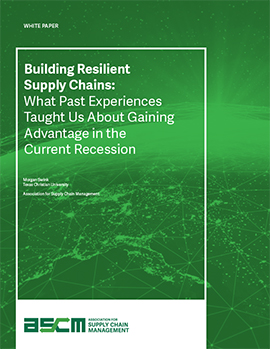 In 2019, professor Morgan Swink, Ph.D., his graduate assistant Peeyush Soni, and the ASCM RISC Committee embarked on a research project to determine critical success factors for supply chains that were able to rebound from the Great Recession. These lessons learned confirm that there are steps supply chains can take to build resilience immediately to proactively protect themselves and improve their businesses. Explore the research findings to help your organization prepare for future disruptions.