Phone, tablet and laptop touchscreens are turning people into more visual consumers of information. We swipe, scroll and tap our way through the many messages, articles, apps and games that inform and entertain us. Infographics, memes and other images offer quick bits of information at a glance — and they are extremely effective. An MIT study found that the human brain can process entire images that it sees for as short as 13 milliseconds.

While marketing, education, media and other industries have focused on including more graphical representations of information, the warehousing industry has not kept up with this trend. A variety of visual picking technologies have been released in recent years and adopted by some specific industries, but many of these tools have not achieved widespread adoption because of the expense, complications, limitations or other issues.
Voice picking has been popular in the grocery sector's warehouse environments for high-volume full-case picking. The audio instructions are useful, as long as the picking tasks are simple. However, longer audio instructions can be confusing and require multiple listens to double-check that instructions were heard correctly and completely.
The hundreds of thousands of operations workers doing the daily receiving, put-away, replenishment, picking, packing and shipping of goods generally get their instructions from text-based systems. The workers use their devices to search through and read screens full of text and then enter information with numbers and letters through keyboards. This causes them to be considerably less productive and increases the chance of overlooking important information.
Picking should not be disregarded when it comes to technology upgrades, especially as omnichannel and e-commerce sales continue to rise. Picking is critical, and technology can help ensure that orders are picked efficiently and accurately.
Picture the difference
Consider the role of operators whose days are spent picking from storage racks and shelves to make sure the order pickers always have products to pick. The transactions are driven by a worker observing that pick locations have or will soon become empty and receiving replenishment instructions from a centrally driven information system, typically a warehouse management system. The operators travel to pick locations to pick the materials that need to be replenished and then take them to another location to drop them off, finishing the replenishment cycle.
When pick instructions are in text form, they only offer a series of letters and numbers that may or may not have meaning to the operator. Newer employees may not be as familiar with locations and may become confused about which aisle, bay, level, pallet or storage slot to pick from. But a graphical presentation through a diagram or image can more effectively convey the information. An interface that provides operators with visual clarity regarding locations and products can help them quickly picture where they are going. Once a worker arrives at a location, they should then be able to see the pick or put location on the screen, which could be highlighted to further reduce mistakes.
Figure 1 illustrates the difference between text-based and image-based instructions. The left image shows a traditional text screen, and the right image offers a colorful diagram. The right image certainly is more attractive and engaging — but, more importantly, it combines a graphical depiction of a location and the right amount of supporting descriptive text to help a worker quickly and accurately identify the right pick or put location and the actions that need to be taken while at that location.
Figure 1: Text- versus image-based instructions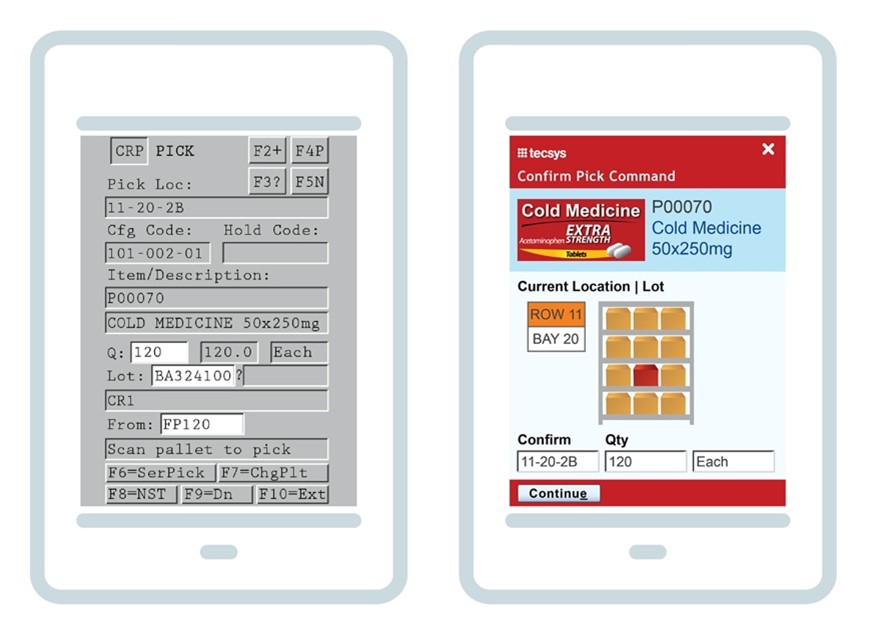 Aim for accuracy
The clarity provided by these types of visual systems can directly reduce the two most common picking errors. First, visual interfaces make the search process quicker and help ensure that the picker scans the bar code for the right location the first time. The most common picking problem relates to pickers starting with an adjacent location. If a scan is incorrect, the system should prompt a rescan. This corrects the inaccuracy, but takes time. It's much faster to get it right the first time.

Depending on the type (pallet, case or each) and complexity (large or small, jumbled, mixed, or difficult to handle) of the pick or put, operators should be able to gain 5-30 seconds per transaction, as a conservative estimate, when using a visual picking system. These savings are primarily in search time. In a facility that ships 20,000 order lines per day, this translates to about $564,000 in annual labor savings, according to a Tecsys analysis.
Secondly, pickers tend to pick the wrong number or size of items. Should the operator be picking a case, an inner pack or an individual item? Visual systems provide clarity by showing — not just telling — the operator what to pick.
Knowledge accessibility
The ease-of-use benefits of visual systems extend to employee training as well. Visual interfaces are easier to learn and help operators get up to speed quickly, greatly shortening training time. In addition, because these workers can learn the procedures more quickly, they make fewer mistakes in their first few hours and weeks of work.

However, experienced workers need support too. Frequently changing product mixes and order patterns means that products often are moved throughout a warehouse. In this case, experienced workers do not have the advantage of already knowing where items are or about transaction task patterns. Visual systems can guide them to make efficient, accurate picks in spite of changing order dynamics.

A more enticing work environment
Visual systems also can make work more engaging for picking employees. Both new and experienced operators report that visual interfaces are less strenuous and more satisfying. These systems even tend to boost employee retention because the workers are proud of their high accuracy and productivity rates. Companies also find that visual systems are more attractive to younger generations. They may hear through friends, family or social media about workplaces that are seemingly more progressive because they use systems that look and function like their phones and tablets.
Visual systems also can help companies access a larger talent pool of workers from different backgrounds, countries and languages. Word directions must be read in their specific language and understood. However, symbols and diagrams can be language-independent and clear to people who speak different languages. For example, a picture of a person in a crosswalk can clearly communicate to a driver that pedestrians may be crossing the road nearby or to a pedestrian that he or she is allowed to cross the street at that point.
The same understanding benefits happen in warehouses with visual systems. A diagram of the location of the next pick or arrows pointing to the next pick location can be quickly and easily understood, regardless of language fluency. This also means that international companies can implement the same or very similar systems in their facilities around the world because the visual systems have language-agnostic instructions.
Results you can see
Going visual does take some extra investment to develop the visual interface information and input the information into a system that supports visual interaction. However, this investment pays off transaction after transaction as order fulfillment becomes much more accurate, reducing time-consuming and costly fixes. It also pays off in warehouse productivity as more tasks are done in the most efficient way the first time. Plus, about half of a distribution center's labor force typically is involved in picking operations. When you multiply these benefits across such a large percentage of employees, companies see substantial results.
There are three basic steps to visual system implementation:
Make sure the operation is equipped with warehouse and data management solutions that are designed for visual user experiences.
Create visual depictions of locations where transactions like receiving, put-away, picking, packing and shipping take place. You don't need to illustrate every storage location, but if you prefer to do so, consider using a drone to help you create this map quickly. However, the cost-benefit ratio is marginal for this addition. Regardless, it is important to show the right sizes and spacing of storage locations so that the operator can see a representation that is similar to the real-world environment he or she is working in. Also, use highlights on the screen to show what should be picked and where it should be placed.
Develop images or representations for each of the units of measurement to be picked, including each type of pallet, case, inner pack or individual item.
Mapped out in a visual system, these three elements can provide operators with easy-to-interpret procedural support that reduces dependence on tribal knowledge, eases more dynamic activities, and establishes a more systematic and intuitive interface for employees.