Note: This blog post is part of a five-part series called "Toward a Circular Supply Chain: Shifts in SCOR Supply Chain Habits." Keep an eye out for future posts.
Imagine: All waste and process by-products in the world will become the raw materials and inputs needed by all the processes in the world. In turn, the maintenance, refurbishment and remanufacturing industries will dramatically increase in size and value. Then, aftermarket supply chains will become the dominant model as linear supply chains give way to circular supply chains.
In the circular economy, materials and resources loop throughout processes indefinitely. Supply and demand loops among value networks allow for types of monetization that were previously impossible. On a global scale, this circular economy is expected to add $4.5 trillion to the global economy by 2030.
Supply chains around the world will be challenged to shift their habits to support new business models. The increased complexity that will be managed by global supply chains will be represented by future Supply Chain Operations Reference (SCOR) model versions.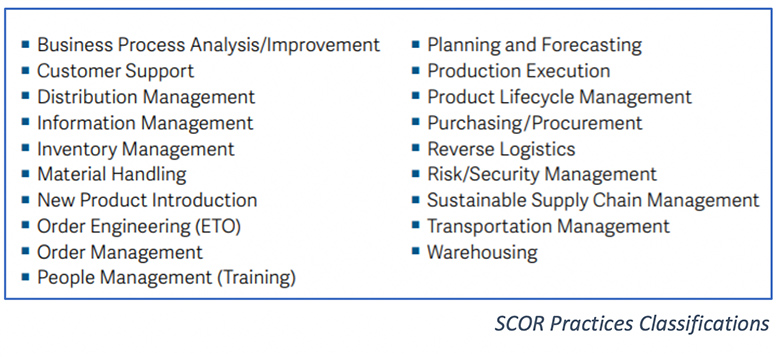 The practices in the SCOR model address the way supply chain professionals solve problems as they manage and operate supply chains. These include emerging, best and standard practices. The classification categories of these practices are outlined in the included chart. These practices and their applications will shift as circular business practices require circular habits from supply chains around the world.
When viewed as part of circular business models, shifts to current supply chain practices will be extensive. Imagine the impacts to the practices supply chain managers use today when circularity factors are considered. For example, Integrated Business Planning, Scenario Planning, Supply Chain Optimization and Strategic Sourcing will all expand to include elements of the circular economy and circular business models.
New habits will soon be defined as emerging practices. These could include practices such as
product as a service

materials provenance, or the practice of tracking a single part or material through its life cycles

industry 4.0, or the practices related to the technologies that are developing and becoming more widespread.
Shifts to the SCOR Model
The SCOR model has reflected supply chain processes, performance metrics, practices and skills for more than 20 years. It will continue to shift to reflect the supply chain habits required to support industry 4.0 and a circular economy, and supply chains will continue to strategically position organizations to succeed.
Join the circular supply chain community
Find out about the latest news and events about circular supply chains around the world by following this

LinkedIn page.
Join a dedicated space to discuss how supply chain can accelerate the transition to a circular economy in this

LinkedIn group

.