Note: This blog post is part of a five-part series called "Toward a Circular Supply Chain: Shifts in SCOR Supply Chain Habits." Keep an eye out for future posts.
Imagine: All waste and process by-products in the world will become the raw materials and inputs needed by all the processes in the world. In turn, the maintenance, refurbishment and remanufacturing industries will dramatically increase in size and value. Then, aftermarket supply chains will become the dominant model as linear supply chains give way to circular supply chains.
In the circular economy, materials and resources loop throughout processes indefinitely. Supply and demand loops among value networks allow for types of monetization that were previously impossible. On a global scale, this circular economy is expected to add $4.5 trillion to the global economy by 2030.
Supply chains around the world will be challenged to shift their habits to support new business models. The increased complexity that will be managed by global supply chains will be represented by future Supply Chain Operations Reference (SCOR) model versions.
Shifts in supply chain performance
Supply chains enable the organizations they support to achieve nearly any goal. To make this happen, the goals of the organization and of the supply chain, as well as how progress will be measured, must be clear. Circular thinking will shift how supply chains measure performance. These performance measures become critical for aligning stakeholders and networks on strategies and goals.
Performance measurements in SCOR fall into five attribute categories: Reliability, Responsiveness, Agility, Cost and Asset Management Efficiency. These represent the measurements that supply chains directly impact to add value to the organizations they support. They also can be used as central strategies, especially as supply chains become more strategically core to many organizations.
Two notable shifts in performance measurements will be how to measure inventory and costs.
Shifts in inventory metrics
The definition of inventory will be expanded from its current definition under Return on Working Capital. The major types of inventory will expand from raw materials, work in process (WIP) and finished goods (FGs) to also include looped materials that have completed reclaim processing and are ready to be monetized.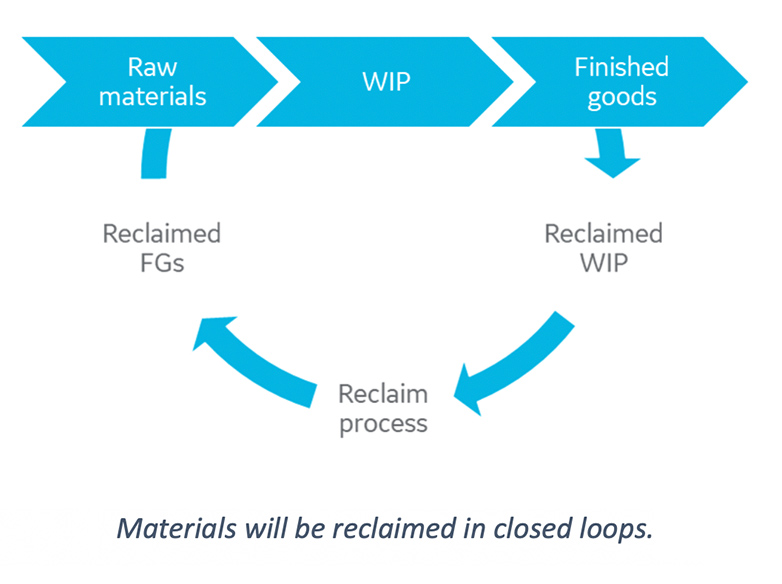 In a circular economy, does everything become inventory? In order to properly track and forecast materials throughout their lifetimes, some version of inventory management for waste is required. As a result, new types of segmentations will become standard for tomorrow's inventory management.
Shifts in cost metrics
The cost performance measure also will shift and expand. Cost will soon be connected closely to supply chain revenue, which currently is tucked under the Asset Management Efficiency category, as by-products from manufacturing processes are captured and monetized. For example, imagine a manufacturing process is done at a slightly higher cost in order to maintain the by-products for the next customer. Although this may drive up cost, the revenue received may outweigh the additional cost. Therefore, these should be taken together and expressed as a total landed value.
Circular thinking also will introduce new cost performance measurements for supply chains. A new cost measurement, such as cost to reclaim, likely will emerge. This goes beyond reverse logistics and describes the entire cost of locating, moving and processing materials as they reenter a loop to be reused by another process.
Shifts in Sustainable SCOR
In SCOR 12.0, there is a special application section known as Sustainable SCOR. The metrics in this section closely align with the Global Reporting Initiative standards and provide a reference model regarding materials, energy, water and waste. Sustainable SCOR provides a good basis for supply chains that are starting their sustainability journey. Circular thinking takes this in a step past sustainability and into a network where the goal is for materials to loop indefinitely.
Shifts to the SCOR model
The SCOR model has reflected supply chain processes, performance metrics, practices and skills for more than 20 years. It will continue to shift to reflect the supply chain habits required to support industry 4.0 and a circular economy, and supply chains will continue to strategically position organizations to succeed.
Read the entire Circular Economy blog series.
Join the circular supply chain community
Find out about the latest news and events about circular supply chains around the world by following this

LinkedIn page.
Join a dedicated space to discuss how supply chain can accelerate the transition to a circular economy in this

LinkedIn group

.