Connected cars, machines, wearables, home appliances and other consumer electronics comprise the internet of things (IOT). These innovations are on the brink of surpassing mobile phones as the largest category of connected devices. As sensors continue to fall in price and device networks become commonplace, information technology (IT) professionals should expect to be managing thousands of these endpoints any day now.
The key question, though, is: To what end? It's easy to scatter sensors everywhere, but when running a line of business, how can supply chain management help make sense of all the sensors? To answer this question, just think of what you do at home. When people use the IOT in our personal lives, our goals are straightforward. We want to connect to our home and make everyday tasks simple, secure and productive.
For supply chain professionals using the industrial IOT, the goals should be essentially the same: Connect to the supply chain and make everyday tasks simple, secure and productive. The sooner these objectives are achieved, the sooner mobility and IOT will transition from nice-to-have to business-critical.
Supply chain managers are both business professionals and customers, so our expectations are shaped by our experiences in both worlds. For example, when you order at home from Amazon, you expect lightning-fast speed, complete visibility and no surprises. Your customers are becoming accustomed to this experience too; it's what they expect when working with you as well. After all, why should your supply chain be any less advanced and user-friendly than a retail website?
With sky-high customer expectations, the only way to succeed is to work the way Amazon does: with mobile technology and the IOT embedded across the entire supply chain.
SLEEPY TODDLERS, SLEEPY TRUCKERS
A major reason people use the IOT at home is for safety. For instance, countless households have an IOT device to monitor their children. Smart home technology tells us when something is wrong and if we need to take action to make things better. That same idea equally applies to logistics. Companies have a responsibility to make sure their people are safe — especially truckers, who face demanding jobs with long hours on dark roads. It's now possible to outfit truck drivers with IOT devices that detect if they are falling asleep. If this occurs, an alarm sounds and lights flash to wake up the driver and avert a potential disaster. This protects both the driver and the company.
AIR CONDITIONING, AUTOMOTIVE CONDITION
Home technology is also about optimizing the performance and durability of the household. Independent studies have shown that Google's Nest Learning Thermostat saves people an average of 10-12 percent on heating bills and 15 percent on cooling bills. In under two years, it can pay for itself. In the same way, modern logistics companies know there's money to be saved by optimizing their entire fleet. Trucks can be outfitted with sensors that reveal how well drivers are handling the rigs and if they are obeying speed limits. Monitoring trucks for excessive sudden braking is also a good idea, as it might suggest that a driver needs coaching to avoid accidents and needless wear and tear. And nearly all of today's trucks have on-board diagnostics ports that capture a wide range of data, including speed, emissions and tire pressure.
BEGIN WITH THE WHY
As important as the technology is, it's never the right place to start. Modernizing a supply chain rarely succeeds when buyers invest in a lot of hardware without having thought through the business requirements. Here, too, approach smart supply chain technology the way you would smart home technology.
What are the problems you're trying to solve or opportunities you're hoping to pursue with the industrial IOT? Why are those the most urgent to consider? If you're uncertain what the problem is, it will be tough to know if and when you solve it.
Proof of concept must come first. Households that run on Google Home don't start by blanketing every inch of the residence with devices. They start small, see what works best within the particular environment and then add only the technology they really need. The longer your supply chain, the more insights you will find by collecting and sharing data across it. As you consider your smart supply chain strategy, remember that nearly every device will exchange and update data with others. This is all the more reason to do proof of concept first: so that you know, from real-world experience, what those devices and data exchanges should be.
YOUR IOT PARTNER
When selecting a provider, it is important to begin by thinking through your specific business demands and use cases and evaluating how your needs are likely to change. (See Table 1.) Look for IOT partners that offer an integrated suite of solutions built to manage both mobility and IOT. Be wary of solutions that were cobbled together through a series of acquisitions. These often have gaps that reveal themselves over time.
Also essential is a proven methodology for shrinking the cost, complexity and downtime of developing and deploying apps, as well as managing business-critical endpoints. Effective providers use analytics and insight to give your IOT network the stability to deliver on mission-critical needs every day and the flexibility to adapt, grow and improve.
Just as smart home technology is vulnerable to being hacked, so is the industrial IOT. Be sure to select a partner that can manage and secure your devices and endpoints remotely. Because roughly 80 percent of those devices will be running Linux, those partners also should have a long track record of managing large, fast-growing ecosystems of different Linux distributions on a wide range of Linux-based devices and keeping Linux devices running trouble-free. Enterprise mobility management vendors with a sophisticated understanding and strong offerings around Android also will be a significant step ahead of the rest of the pack — especially when it comes to managing the fast-approaching future.
Finally, there is one significant difference between smart home technology and supply chain technology: A supply chain is a lot rougher on technology than a comfortable home. Look for providers that enable ruggedized devices that can stand up to life on the road, not just in the living room.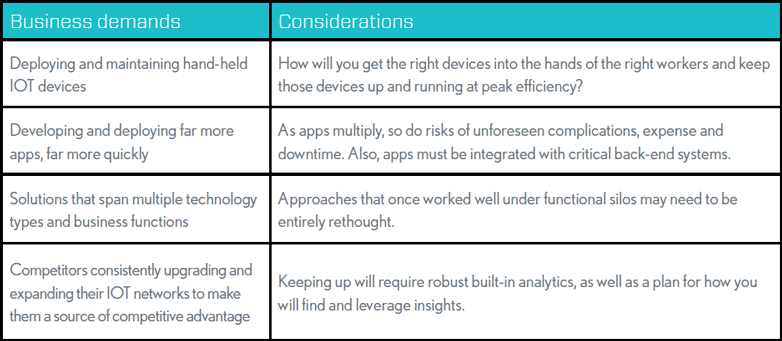 EXPAND YOUR THINKING
It's difficult to imagine a single point along the supply chain that doesn't benefit from being connected and coordinated with the network. For instance, many manufacturing firms have started to deploy smart sensors in their factories for predictive equipment maintenance. Instead of spending more for labor or losing revenue when things break down, the IOT enables the proactive identification of issues before they become major problems. And factories that employ proactive maintenance produce more than factories that are maintained only when things go wrong.
For example, in retail, the IOT is being used at virtually all stages of the product journey. This starts with optimizing the supply chain and using analytics to ensure the right products are in the right place at the right time, while enabling brands to transform the in-store experience and connect with shoppers in a more personal way.
Supply chain once was considered a business of simply moving things from one place to another. Today, it must be viewed as a data business. The ability to transfer and update information at every touchpoint is an indispensable core competency. The most successful companies in the world are racing to modernize their supply chains and make them smarter. If your company isn't already on that journey, start now.