From Our CEO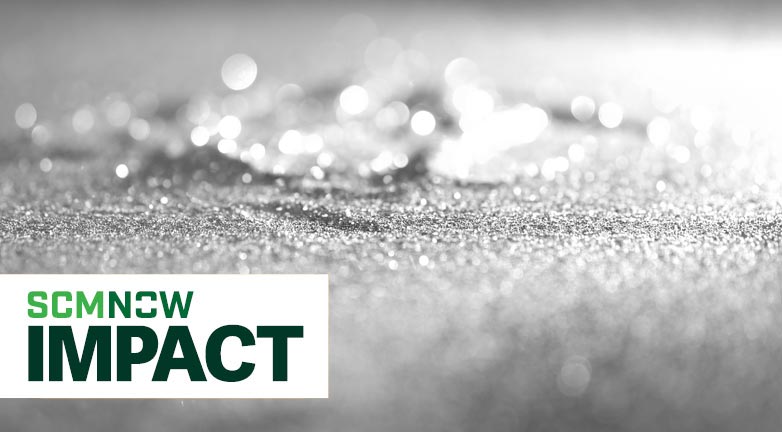 A Shiny New Way to Secure Global Supply Chains
By ASCM CEO Abe Eshkenazi, CSCP, CPA, CAE
As 3D printing continues to transform the way things are made, supply chain professionals are facing a new wave of threats. The infinite number of computer-aided designs available online today significantly increases the likelihood of purchasing counterfeit components. These parts rarely meet required performance standards and make it alarmingly easy for hackers to inject malicious software in high-tech devices. In fact, Gartner says 3D printing can be blamed for the loss of $100 billion of intellectual property per year globally.
"Reliably tracking physical objects is becoming increasingly important to the world economy," writes David Z. Morris for Fortune. But a new startup, Dust Identity, has a "strikingly innovative, yet straightforward" solution to this problem.
Dust Identity's process begins with tiny diamond fragments embedded in a polymer, which can be sprayed on a part. Once dry, the fragments are frozen in place and a unique tracking code is created. The resulting pattern of scattered light is as random and complex as a human fingerprint.
"[The] tagging technology could eventually help secure the increasingly long and complex supply chains that global manufacturers rely on … essentially turning the solution into a distributed database that could allow for more reliable data-sharing among the thousands of producers and shippers," Morris explains, adding that manufacturers of complex products, such as airplanes and electronics, are most likely to benefit from the technology.
Interestingly, the application of diamond fragments in a polymer is inexpensive. Dust Identity uses synthetic diamonds recycled from the abrasive industry. The company believes that, at scale, a single application of its tag could cost as little as one one-thousandth of a cent. The scanning technology involved — a simple microscope lens and camera — is also low-cost.
Risk management education
The world of supply chain is complex and ever-changing. Industry professionals must constantly evaluate their organization's potential vulnerabilities and keep supply chain risk management top of mind. At ASCM 2019, numerous educational offerings provide real-world strategies for accomplishing these goals.
First, Anthony Scriffignano, senior vice president and chief data scientist at Dun & Bradstreet, will present The Convergence of Digital Disruption. This session will examine how to effectively inform your decision-making with digital technologies that use data in exciting new ways.
The panel discussion Procurement, Sourcing and Trends to Watch in 2020 and Beyond will feature supply chain practitioners discussing the major impacts they are seeing in sourcing, proven best practices for minimizing risk, and specific methods for taking advantage of new tools and platforms.
In addition, the ASCM 2019 World Café will enable attendees to explore numerous facets of supply chain risk and resilience. At the interactive discussion, attendees will collaboratively brainstorm ways to identify potential threats and recover from supply chain disruptions.
All three sessions count as one elective credit hour toward the ASCM Risk Management Education Certificate. Join us for ASCM 2019, September 16-18, in Las Vegas to take advantage of these important supply chain risk management offerings. Register by July 31 to save $400.